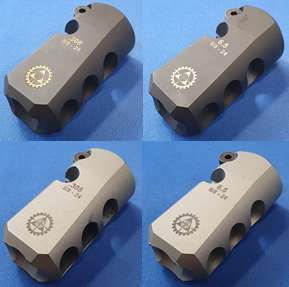 Product Description
Muzzle Brake, 308WIN, 5/8 inch UNEF
Muzzle Brake, 6.5CM, 5/8 inch UNEF
Calibre is engraved on the muzzle brake.
Accessory provided with LA105 Woomera Rifles.
Available as accessory for LA102 Crossover Rifle or other rifles with 5/8 X 24inch UNEF muzzle thread.
Used to reduce recoil.
Note: Muzzle brakes with a clamp mechanism are subject to the recall. The replacement Gen 2 muzzle brakes with the locknut are not subject to the recall.
What are the defects?
A design or manufacturing fault can lead to muzzle brake baffle contact where the projectile contacts the inside of the muzzle brake before exiting the barrel and can result in:
Bullet fragments exiting from the side and/or rear of the muzzle brake at speed and/or
The bullet deviating unexpectedly from the point of aim.
What are the hazards?
If the bullet contacts the inside of the muzzle brake, bullet fragments may cause injury to bystanders and/or the bullet may deviate from the point of aim and can pose a risk of serious injury or death to personnel downrange of the user.
What should consumers do?
Owners of a rifle fitted with an affected muzzle brake should immediately stop using the muzzle brake and remove it from the rifle. The rifle can continue to be used without the muzzle brake. The muzzle brake can be returned directly to Lithgow Arms and a replacement muzzle brake will be provided free of charge. Alternatively, owners can seek a refund of the purchase price of the muzzle brake.
Replacement product is now available.
To arrange a replacement or refund, please complete the online form (below). All details will be kept in strict confidence and only used by Lithgow Arms for the purpose of recall and replacement of the muzzle brake.
Lithgow Arms will send you a Return Post Satchel with a Return form inside it. Please place the muzzle brake along with the completed form in the satchel and seal it. Place the sealed satchel in any Australia Post Box or take to any Australia Post Office. Owners do not need to pay for postage to return this product.
Upon receipt of the affected muzzle brake, Lithgow Arms will post you a new Gen 2 muzzle brake for those customers that have chosen a replacement as soon as the replacement product is available. You will receive notification via email when the replacement is dispatched. For customers that have chosen a refund, refunds will be processed upon receipt of the affected muzzle brake.
Contact Details
You can contact Lithgow Arms by phoning +61 (0)2 6352 9900 or emailing LithgowArmsRecall@thalesgroup.com.au.
Click here to download a copy of the official recall advertisement published by the Australian Competition and Consumer Commission.